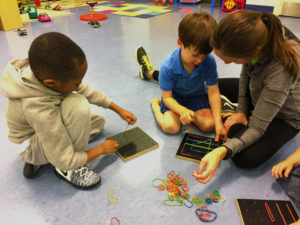 Applied Family Services, in partnership with Parkway Presbyterian Preschool, will begin offering a sensory friendly preschool class for children with social delays ages three and four!
Classes will begin September 4th (Monday – Thursday) from 9am-12:30pm.
Classes will maintain a low student-to-teacher ratio as we integrate social skills through a preschool curriculum.
Cost

---
Registration cost is $150
Monthly Tuition $315
Location

---
1000 Yorkshire Drive Winston-Salem, NC 27106 (Kirklees Road Entrance)
Directions
To sign up, please fill out the below registration form.  We will be in contact with you soon!

Registration Form

---